The United States takes on Belgium today (ESPN, 4PM EST), and there are a few lineup questions that Jurgen Klinsmann must answer ahead of today's game.
Yes, Jozy Altidore has been cleared to play, but likely won't start and could be held back entirely or saved as a late regulation or extra time substitute. While Alejandro Bedoya and Brad Davis haven't done poorly at the left midfield spot, neither player has taken hold of the starting spot. While Bedoya was good off the bench vs. Germany, the attack from this position has left a little to be desired in my opinion. Does Omar Gonzalez start again over Geoff Cameron after a strong performance against Germany?
And what about Michael Bradley? He's new role as central playmaker hasn't gone over all that well, as too often he is dispossessed with little support or has to drop so far back into his own half to get the ball that he's essentially breaking his position. So, how should Klinsmann solve all of these questions?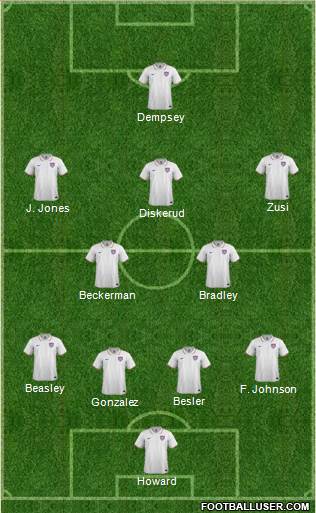 First, Tim Howard is in goal, moving on. Second, I'd start Gonzalez again on the backline. Germany and Belgium have a lot of similarities an Gonzalez's aerial prowess could prove vital as it did in the final group game. That leaves Cameron as a versatile weapon off the bench, as he could easily move to right back and allow Fabian Johnson to go forward, to his preferred left midfield role.
And speaking of left midfield, yes, that is Jermaine Jones wide left. We've seen this work before and really what this does is create the perfect holding midfield for the USA with Beckerman staying back and Bradley going forward. If Jones starts wide left, expect to see him subbed off around the hour mark either straight up for Bedoya or that Cameron-Johnson swap I mentioned earlier.
Now, to the biggest question of them all. With Jozy Altidore out, that has moved Clint Dempsey further up the field to the lone striker position. Unless Klinsmann is prepared to start Aron Johannsson or Chris Wondolowski up front and move Dempsey back into the attacking midfield role, there is only one option to start in the center.
Mix Diskerud.
Funny enough, the guy is also wearing number 10, which is exactly what the US needs right now, a true central playmaker who's comfortable in front of goal and can distribute the ball to just about anywhere. It's really a surprise that Diskerud hasn't featured yet at this World Cup, especially because of his versatility to play anywhere in the midfield. I think it's the perfect solution to the US attack and Bradley's issues with possession.
With Jones and Zusi out wide on the flanks, that should give Beasley and Johnson ample space on the flanks to overlap and wreak havoc on the Belgian backline. There's a lot of injury issues for Belgium defensively and the two fullbacks could be the ones that turn the tide in the attacking third.
Is this lineup crazy? I don't think so, but it certainly isn't with out a little bit of risk. Asking Jones to cover the left flank defensively probably increases the chance he gets a second yellow and would miss the quarterfinal. Diskerud hasn't played yet in the World Cup but I'd have confidence in him regardless.
But at the end of the day, the lineup doesn't really matter as much as the scoreboard. Whoever is on the field, either starting or off the bench, this country will be losing their collective minds at 4PM.
See you then.