There's nothing more frustrating that trying to figure out Jurgen Klinsmann's starting lineups. That's not necessarily a bad thing, the enigmatic United States head coach likes to tinker around with his versatile talent pool.
But as I alluded to in my preview, today's game versus Colombia is not the time to be tinkering with your players. This is a real test that requires a real lineup to deal with an incredibly talented opponent. But there's still multiple ways of looking at Klinsmann's lineups, and since we never know what he's going to do anyway, we'll get deeper into Klinsmann's thought process in a little bit. But first, incessant homer alert.
WHAT I WANT USA-COL LINEUP TO BE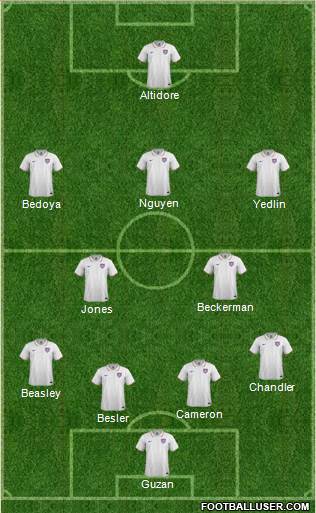 This is fairly straight forward, I want Lee Nguyen to start in the central attacking/playmaking role surrounded by a similar style he plays with in New England. Alejandro Bedoya will play on the left side, but will mostly be pinching in like Kelyn Rowe while DaMarcus Beasley gets to run rampant on the overlap. DeAndre Yedlin who was amazing at right midfield at the World Cup gets the start a puts his speed to good use right from the start.
And no messing around in the back either. Matt Besler and Geoff Cameron are the centerbacks and I'll go with Timmy Chandler at right back since he's more stay at home than Fabian Johnson and I want his versatility on the bench defensively for later in the game but if he's starting instead of Chandler, I like it just the same. Jermaine Jones and Kyle Beckerman will man the holding roles, giving the three playoff MLS players (Jones, Nguyen, Yedlin) starts to maximize their time on the field before they presumably return to their clubs after this game.
Now, is that what I think will happen? No, of course not. Jurgen Klinsmann doesn't operate that way and he'll stick to his guys from the World Cup.
WHAT JURGEN KLINSMANN SHOULD DO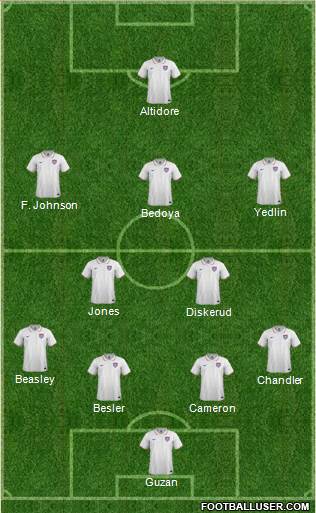 If we're going off the World Cup, this is the midfield that I'd expect to see for this game. Of course, this is blatantly ignoring the Jones experiment at centerback, and it should. This is an important test for the Americans, and to have Jones learning centerback on the fly against an team with such impressive attacking firepower would be unwise. Jones does show promise at the position, and will likely have the January camp as well to further learn the position, but if I'm Jurgen Klinsmann I want to win this game, and that means putting together my best possible lineup.
It's the same back line as above, but we move Bedoya centrally into the playmaking role and put Johnson wide left and let that awesome partnership with Beasley return to the left flank. There's a case to be made for Yedlin at right back and perhaps Diskerud on the right flank ahead of him with Beckerman in the holding role, but I think there's a need to start Yedlin out wide to get his speed more forward in the attack.
WHAT KLINSMANN WILL PROBABLY DO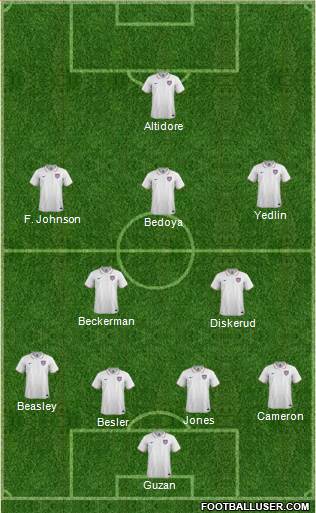 Okay, some of this is based on the assumption that Klinsmann wants to continue to give Jones minutes at centerback. I think for this game it's a mistake, and Klinsmann should use his best lineup available. This third lineup is not bad, however, and it's a fairly stout defense across the board. The midfield triangle will be supported by two good wingers and Altidore up top has a variety of service.
But there are times to experiment with lineups, and this friendly should not be one of them. I'd really like to see Klinsmann use that second lineup I mentioned above since I think that is arguably the strongest lineup for the US. Younger players like Greg Garza and Julian Green will have more opportunities to claim minutes at left back and on the wing, as well as gain valuable experience at the international level. This game however should be a statement game for the US against an opponent they'll be seeing in the future, including a possible matchup at the 2016 Copa America.
At the very least, Klinsmann should start most of his regular players then opt for a wave of subs in the second half and try and maximize the use of his MLS players. And of course, getting the most minutes for Lee Nguyen so that New England Revolution fans can further enjoy this weekend.